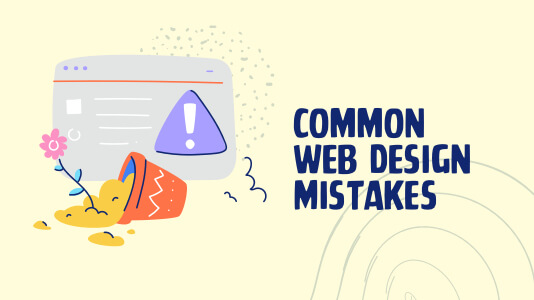 Are you concerned that your website is not ranking on Google after so much effort? You have spent hours on your website, and still, the number of visitors doesn't go up. The reason could be some common website design mistakes slowing down your game.
Web design is one of the most important factors affecting your website's growth. It creates a bond with the client, gains new visitors, builds customer trust, and establishes reliability. A professionally designed website not only grabs the attention of a larger audience but also helps in ranking a website, provides a user-friendly experience, and of course, increases sales.
We are sharing the 10 most common web design mistakes to avoid and easy fixes. Let's dig in!
1. Bad layout and design:
A visitor can either click on multiple options on your website or leave after a few seconds. All of this depends on a well-organized and designed web page. Options should be clear, and navigation should be easy for users. The layout should simple and easy to understand; this will increase your on-page time and get you more click-through orders.
2. Unclear Call to Action:
Lack of Call to Action can be one of the common web design mistakes individuals make in small business websites. Is your website ranking but still not getting clicks on order or desired sign-ups? Maybe your web page is interesting, but the customer is confused about what to do next. Use simple language and include terms such as:
Buy Now
Sign Up
Add to Cart
Get Started
Contact Us Now
Describe the value of your product or services with simple words and avoid fancy words.
3. Search Engine Optimization (SEO) is Not Up to the Marks:
Weak Search engine optimization is a common web design mistake to avoid. Even if your layout and page face is outstanding, you could still be struggling to rank your website. It is high-quality content and proper use of keywords that can bring you greater traffic. This is a time taking process that requires patience. In the past, SEO was a mixture of low-quality content, keyword stuffing, and pools of backlinks (whether relevant or not). However, this is not the case now. The Google algorithms are smarter now, and anyone making such mistakes can lose the site authority.
A key factor that helps in the optimization of your website is Long tail keywords. Long-tail keywords bring more traffic and generate leads than short ones.
For instance, instead of "Persian Cats," write "How much does a Persian Cat Cost." A buyer looking for prices only may form a connection with your site providing exact information.
4. Contact Info is Difficult to Find:
Clients and customers should be able to contact or place an order easily.  Add Contact us or call option in header, footer, and designated places on the website. Many website owners are reluctant to add phone numbers. Add it using simply Call for Free or contact us at 0800-333-333. Users do not want to find a way to contact you by themselves; put it out in clear words. Moreover, add multiple ways to contact you, such as a link to Facebook and Twitter page and email address. Also, put the Contact us link in the navigation.
5. Too Much Content Filled on the Website page:
No doubt, websites should be rich in quality content and images. However, filling in every corner and side will make it difficult for the reader, leaving him/her confused. Space between words, Headings, short subheadings, and clear points make it a lot easier for them. Leaving whitespace between text helps in:
Grabbing the attention of the customer or client.
Increases readability.
Create a feeling of decency and openness.
6. Adding Irrelevant Images and Irritating Pop-ups:
A common web design mistake website owner makes adding poor quality and irrelevant images. Although images play a vital role in generating more traffic, irrelevant images can confuse the audience. Moreover, avoid adding too many and very large images.
Pop-ups can be both a blessing or a problem for you. They bring a great number of email subscribers. However, the issue arises when pop-ups irritate the visitors as soon as they land on your website. To solve this issue, make catchy pop-ups, allow them to appear after 1 min a visitor has spent on your website or has scrolled half of the web page.
7. Weak Color Theme and Font Styles:
Poor color schemes and font styles are common web design mistakes to avoid. Avoid using harsh colors that may strain the eyes of the reader. Readability and clarity are the most important factors to increase the audience. The text should also be clear, especially for mobile users. The website should be designed to fit the text and images according to mobile devices automatically.
8. Loading Time is Too Long:
According to Google, the probability of leaving a site is 32% if it takes longer than 1-3 seconds to open. If your website is slow and takes more than 3 seconds to open, you will certainly lose traffic and ranking. No doubt, this is a technical issue. However, consult your developer to improve the page load time.
9. Your Website Has Poor Search Quality:
Users want results precisely for what they are looking for. Therefore, other than the design and layout, you provide strong search results to the audience to get more traffic. However, search is the major weak point of most web pages. The sites do not solve user's queries or don't completely disclose the content to view. Review search logs for a better understanding of what a visitor searches and expects from a website. Try to incorporate that information on your website to generate leads.
10. Web Design is Not Mobile Friendly:
Websites that lack web design non-responsive to mobile devices are missing a lot of audiences because users will not sit there trying to view your website as more than 50% audience use smartphones to access Google. This means more than half of the potential buyers and clients use mobile phones, expecting you to make web designs according to mobile screens.