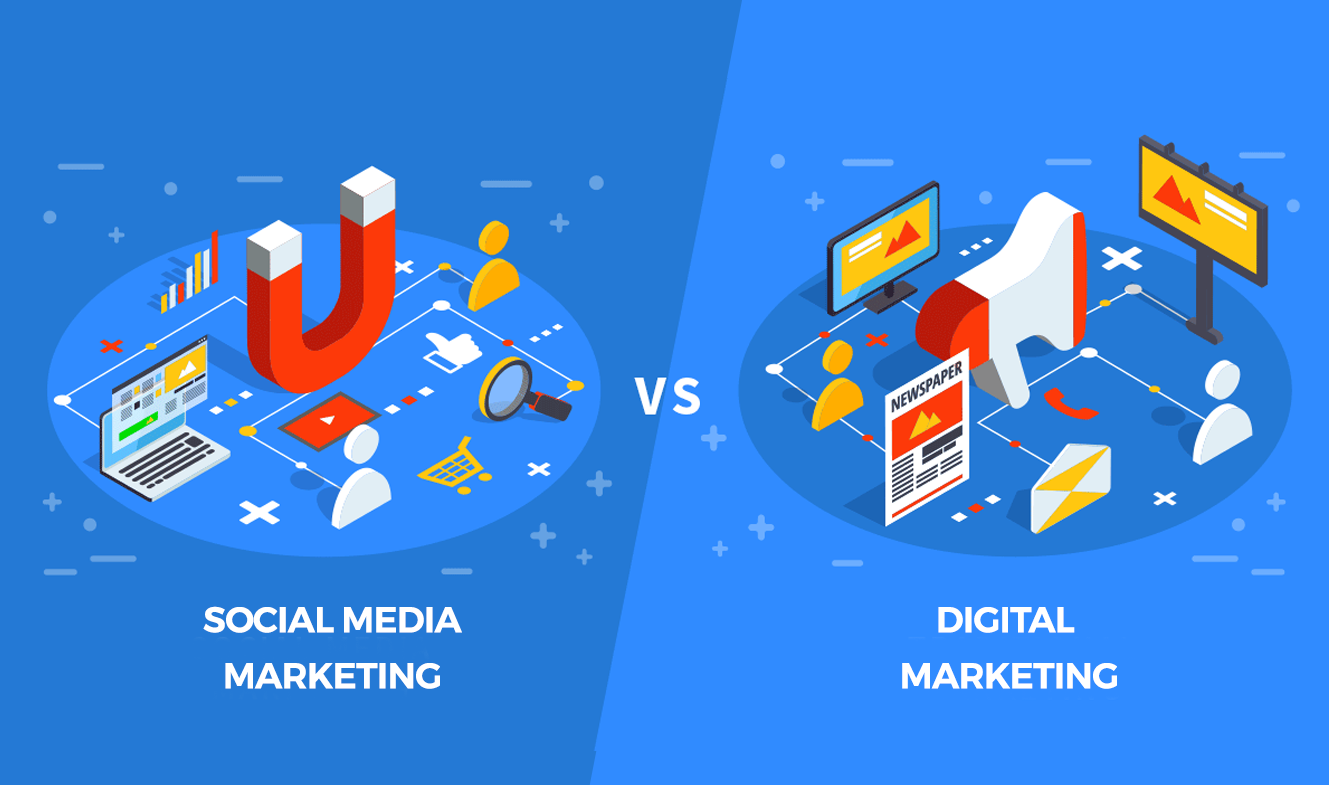 Whenever we talk about social networks, we generally refer to channels such as Twitter or Facebook, or Instagram. When we talk about Social Media, it becomes more complex, including interactions, metrics, dialogue, platforms, etc. Once we are done with this difference, we can compare Digital vs Social Media Marketing. The major difference between social and digital marketing is that Social Media is only a part of Digital Marketing. Most people think that by getting into social media or social networks, they are doing digital marketing, but it is not true as many other elements collectively make up a digital marketing network.
What is Digital Marketing?
Digital Marketing is a method to create, promote, and spread awareness about a product or brand by using all the digital platforms.
Its major tools include:
Email marketing
Content creation
Video hosting tools
Paid social media marketing
Social media channels
Content creation tools
Website analytics
SEO tools
Customer service tools
Display retargeting
Affiliate marketing
Organic social media marketing
Social Media is just a crucial aspect of Digital Marketing.
What is social media?
Social Media is one of the essential parts of digital marketing. It includes using various social media platforms that we use, such as Twitter, Goggle+, Facebook, YouTube, Instagram, Snapchat, etc., to market different services, products, or brands. Generally, it implies getting engagement with the followers, targeted audience, posting unique and fresh content, seeking industry influencers, arranging contests, and using several other means to get the attention of the potential consumers present on different social media channels.
Digital Marketing Vs Social Media Marketing
Social media marketing is just like using social media as a part of communication. Digital marketing is responsible for creating content that really grabs the audience's attention.
Social Media marketing is only about using social media channels. In contrast, Digital marketing means using various elements such as videos, blogs, images, etc.
Social Media Marketing can be somehow simple; you will need to study where the target audience is and create an account on that social network. Digital marketing is about analyzing the public, understanding what it is that audience might like to consume, and then moving on to create and share good content with the help of tools.
Digital media marketing campaigns may use various channels such as SMS, TV, mobile advertisements, online advertising, etc. Social media marketing will focus on more than one social media platform such as Twitter, YouTube, Facebook, etc.
The success of your social media marketing campaign depends mainly on your content. It means you have to keep posting unique content on your social media accounts to engage your targeted audience. While for digital marketing, you can only use banner advertisements on different digital channels such as the Internet, TV, or billboards to promote your services, product, or brand.
It is recommended to hire Iimporiotech.com to get any of the digital or social media marketing services.